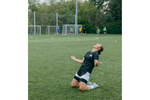 We all look up to female athletes. They've defied the misogynistic odds in order to do what they're passionate about. Being watched less, paid less, appreciated less. None of this was enough for them to back down, so they definitely deserve all the praise. 
In the female sporting community there are so many different body types. Each type has a specific issue, but these women take pride in their bodies and convince us to as well. When it comes to body positivity and self-image, female athletes take the cake.
Serena Williams:
You all saw this coming. One of the most popular and influential athletes in the whole world. Michigan-born, Williams has a very strong physique...sexy as ever! Most believe women are supposed to be small and delicate. So when they encounter a female this strong, a lot of negativity follows. She has addressed this issue before, saying "I love my body". Knowing that a woman feels proud of what many men would call shameful gives us hope. Her goal isn't to get other people to like her body, but to influence others that looks like her to love theirs. 
Simone Biles:
Throughout her competitive life, Simone Biles has had a rough time in society. There is a sexualization problem that women constantly need to worry about, and when you're a beautiful woman wearing gymnast attire, people will stare, make comments, and constantly sexualize you for just wearing what you need to. In spite of all this harassment, Biles is appreciative of her body for allowing her to do what she loves. This is important to think about, is how she didn't love or hate her body for how it looks, but for all of the amazing things that it can do.
Brittney Griner:
No negativity or self-sorrow has come from Brittney Griner. She is a WNBA and Olympic basketball player and is 6'7". That height comes with very long limbs. She loves her big hands, long legs and arms, and big arms. They helped her do what she loves. She believes the world would be boring if we all looked the same. And it would. She loves her features...as she should...and has no doubt about it. You can do the same. 
Bodies are just bodies. They don't define who we are, they're something we live "in". Be happy with all of the things our bodies can do for us. Walk, keep you alive, dance, and bring us towards anything we dream of. And for us with big feet? Us beautiful, plus sized and/or tall ladies? We know sometimes being plus-anything isn't seen as a positive society, but we are! You are! Beautiful in every way.