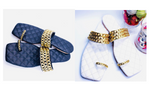 Sandals are not always exciting. They have flat soles and are seen as the most minimal foot protection that you could wear. But what if we added a little sparkle to your step? It's time for you to meet our bougie sandal, Ree.
Made with a vegan synthetic upper, this sandal has a serious outsole to ensure all-day walking and a padded midsole for superior comfort. Gold chain accents around both foot and toe strap make her known as "jewellery for your solz"!
She's a beautiful sandal and a great way to show off your freshly painted toes. Her black or white base pairs perfectly with any outfit you decide to wear.
Shorts
These are the most worn pair of clothing in the summer, and why wouldn't they be? They're cute, keep you cool, and show off your long legs. 
Whether you pair them with a tank top, cropped top, or t-shirt, Ree knows how to add the perfect touch. The Ree sisters with every colour, so go crazy with it. 
Vacation Outfits
You'll need shoes for the beach, trips to local towns, and most importantly for your dress-up dinners. Ree offers a level of vacation-class you couldn't get from the heels you'd wear at home. 
Gold is the colour that looks good on everyone, so pairing it with a mini summer dress really accentuates the sandal. Bring on the sexy with Ree. 
Pool Party
Summertime screams bikinis. Whether it's poolside or beachside, Ree can handle it all. She protects your big feet from the heat and places all eyes on you. 
The best bikini colour to pair her with is red. It matches perfectly with each colour option of this plus size shoe and complements every skin tone. 
Ree belongs to our "sandals and flats" girl group. Scrap the boring sandals and let her golden voice shine brighter than the sun. Sizes 11-16 available now.