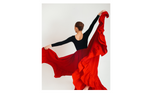 Society loves celebs and their signature looks, and although this star is only 5'5 and doesn't have the trouble of needing to wear plus size shoes like all of you, she is an inspiration and an icon in her heel-loving lifestyle. Sofia Vergara and her shoes have been a hot topic for a while. It's even been featured in some episodes of our favourite sitcom, Modern Family. 
Through the years, Vergara's style has evolved, but what's stayed the same is how she's set on wearing heels to everything, bringing "beauty is pain" to a whole other level. Let's analyze some of her iconic looks and beautiful shoes. 
2011 Sofia Vergara: Pumps. Her favourite addition to anything. Thick, tall, painful heels are her go-to shoe of choice for walking around in. She's a superhuman, no doubt about it. Vergara is usually caught shopping when she has them on. She pairs hers with leggings, tight skirts, and a tank top.
We've got a couple plus size pumps of our own that could recreate this look. Check out Juliette, Beverly 3 and 4, Olivia and Gwenneth (we think superhuman Vergara would approve).
Let's move on to 2012, where jeans took over Sofia's entire (probably really, really, big) wardrobe. This is when she spent her summer in both N.Y. and L.A., following trends with her wedge sandals and boot-cut jeans. She had every opportunity to wear another pair of shoes, they'd be covered by the jean style either way, but she persisted. If you looked into her heart, you'd probably see a bunch of heels floating around. Pure love and commitment. 
In 2017, Vergara switched her style. She kept the jeans and "whatever-top" style throughout the year, but throughout the summer and winter, Sofia had different vibes and different shoes. She started the winter off with black bootie-heels and moved into the summer with chopped bangs and sandal-heels, bringing out all the colours. 
Of course, we've got something along those lines too. Our sandal-heels Debra 2, Debra 4, and Carmelina. To match Vergara's winter-bootie-heel we've got our Carla and Christine booties.
In 2020, Sofia Vergara showed off her black open-toed shoes. She changed up her bangs and found a home in jeans and fancy tops.
Many of our plus size heels are open-toed, including a few of our favourites: Olivia, Jonelle 3/4, Paul-a, and Margaret. 
If you want your big feet to follow in the footsteps of superhuman and style icon Sofia Vergara, check out the "pumps & heels" section of our site. You're sure to find a few favourites.