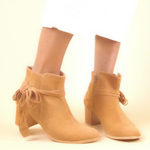 Skip the lines, Skip the advil:
Now those of us with big feet probably snorted at the title because finding fashionable shoes that actually fit us is in fact painful, but not anymore! We're here to help you avoid the painful headaches from spending hours on the internet and the tired and achy feet from running store to store looking for the perfect shoe because let's face it, school is stressful enough. We want you to have the best back to school experience without having to add another headache to your list.
Start the Year Off Right:
Everyone knows that it's all about first impressions when you're walking through those school doors and we know that it's harder for those of us with bigger feet because of the lack of options and sizes. So whether its wanting to make new friends, WOW your old ones or get the attention of that special someone this school year, everyone will be in awe about how stylish your feet look because if you already stand above the crowd with your beautiful long legs you may as well stand out of the crowd too with your beautiful plus size shoes!
But How you May Ask:
We'll help you to look fresh and dressed to impress for the first days back to school with the Alexis-Rose plus sized bootie with its flirtatious tasseled bow and modern block heel that can add class and fun to any outfit. For those looking to pull off a more sleek and casual look you can also choose to pair your fab new school wardrobe with the plus sized Milly bootie as well because if a little black dress is a closet staple, (not so little) black boots should be too! But just wait! When it's time for back to school there's still lots of sunshine so don't forget to rock our selection of flats and sandals, available up to size 15, while you still can. Our classic suede Jackie loafers are the perfect back to school statement makers with its square accent buckle and vintage look, we may as well nickname this loafer the trend setter!
Fake it Til you Make it:
So even if you're not mentally prepared for going back to school, we'll get you ready to walk the halls in style and show your classmates and teachers that you are ready (or atleast look ready) and prepared for the year by rocking some new shoes from Trèsolz. You will be looking good and feeling good with shoes that will help you keep your energy going throughout the rest of the school year instead of wasting that energy on sore feet and worrying about where to find shoes that actually fit. 
So what are you waiting for? Your Alexis-Rose and Milly booties are only a click away so don't leave them hanging, order from our online store now!