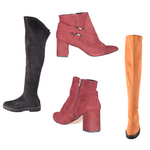 Fall in love with these shoes:
The end of summer is a sad time for most, but it doesn't have to be! We know, we know. For those of us with big feet, putting away the open-toed summer sandals and pulling out the boots can be quite a transition. With our Norma boot available from sizes 11 to 16 in the staple Fall colors of Sandstone and Black, we can rock these over-the-knee boots with our favorite oversized hoodie or a cute leather jacket - anything goes with this sleek and sexy boot! With Norma, you don't have to worry about repeating last year's look or go on the hunt for boots that are fashionable and comfortable because Trèsolz has you covered. 
The countdown is over:
For those of you who have been anticipating the cooler weather however, sweater weather is finally upon us and you can show off your wardrobes and new plus sized booties up-close and personal. Now we can layer up and break it downnn -because we can never get enough of strutting around in boots that hug our long curvy legs, so why not flaunt it if you got it?- Or can get it! Be bold and beautiful with a new pair of shoes that actually fit, and show the rest of the world you got what it takes to look great in your skin!
Jump into Fall with these booties:
Crunch those leaves and skip over puddles this Fall with our Donna bootie because these plus size boots aren't just made for walking, they're made to make you look good! Our Donna bootie is one of the top shoes for Fall for women with bigger feet because with its chunky block heel and matching red genuine suede, these booties go with any outfit and match the season aesthetic so you'll be walking around in the latest fashion and feeling fab! Besides, us tall ladies know that when we find clothing that fits us perfectly, the shoes we wear either make us or break us so why not grab our Donna booties and see what all the hype is about. 
Visit our online store today so you can get together with your friends to enjoy your favorite cup of tea or coffee (all while showing off your fabulous Fall booties)!