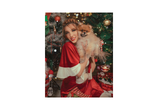 Christmas is a wonderful time of year. There's family, friends, gifts, and beautiful decorations. Christmas brings on parties, so you bring out your most festive outfit and beautiful shoes. We've got both indoor and outdoor plus size shoes lined up for you this holiday season.
INDOOR:
Feel free to let your big feet free when you're inside. Bring on the open-toed heels, flats, or even summery sandals.
One of our most perfect indoor shoes for Christmas has to be Rocksie. She comes in festive green and is one of the comfiest wide width sandals you'll get. Her memory foam padding can keep you on your feet all night and her rounded toe gives your wide feet room to breathe. Stylish and so comfortable, she's like walking on a cloud
Poppy, Willo,  Hillary and Rocksie are flats straight from heaven. They bring outdoor class in, at your at-home party. Their patterns, colours, and sparkly accents give you the option to pair them with a variety of outfits this Christmas.
Brenda and Lesa are closer to the sandal side of life. Flat on the ground and as open as they can be, they're giving you protection with a little sass and a lot of  "do it yourself" by showing off your big feet. Lesa is the most versatile sandal with its clear straps, and Brenda loves to shine with her rhinestoned straps. Simple, or bling? You choose.
OUTDOOR:
As nice as flats are, you probably want to go outside for some warm apple cider and caroling while keeping your big feet dry and warm. In our "boots and booties" section of the site, we have 4 booties that are winter-durable and sexy as hell. 
Two boots offer a pointed toe and heel, and the other two keep it even more comfortable in their flat, round-toe. Milly, Carla, Christine, Teanna and Alexis Rose are eager to meet you this winter, and even more eager to celebrate Christmas with you by their side.
BOTH?
This one's a little personal. You can wear it inside with ease, and outside if you're willing to get a little chilly. 
Gwenneth and Nyomi give you their bold black touch. They'll both easily pair with whatever Christmas getup you come up with. Shiny and glossy have never looked so good. 
Olivia, Paul-a, and the Jonelle sisters give you more of an indoor vibe, unless you want frostbite on your toes. These open-toed beauties bring out Christmas with their red and green colours. How much more festive can you get?!
Beverly 3 and 4 are a little like the two J's, but grey instead of black. They come in a 3 or 4 inch heel for your own comfort, and can withstand the winter snow. A simple outfit is what brings the Beverly's to joy.
Finally, our nude beauties, Katerina 4 and Katerina 3. Similar to Beverly, they come in 3 and 4 inch options. Their clear toe can show off your newly painted christmas nails without the pain of the cold. Their nude colour matches with most outfit colours, even the Christmas ones.  
Celebrating outside or inside, we have many options for you. Ask Santa for a new pair of shoes… or just treat yourself instead.