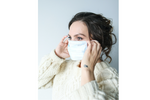 The past couple of years have been hard. Staying at home away from the people you love goes against human nature. Even with all of that, we can't let ourselves steer away from who we are: beautiful women. We need to look good in order to feel good. That means getting out of bed and getting ready for ourselves. Beautiful shoes can go a long way in keeping you on your feet during this tough time. 
Under our "flats and sandals" section you'll find home-friendly, indoor shoes. Check out some of our top selections. 
Ree:
Our new addition to the family brings class to a sandal. Ree lays flat on her diamond-patterned vegan upper-sole, and brings golden chains up and around the toe and top of the foot. Her white and black options bring versatility into whatever gorgeous outfit you plan on wearing. 
Rocksie:
This colourful queen threw on her oversized chain and we're here for it. Rocksie is a wide width sandal, which is something so many women struggle with when finding the perfect shoe. This brings an extra level of comfort, along with the memory foam padding, when walking glamorously around your home. Her green and orange colour selections are perfect for all your autumn clothes this season. 
Carmelina:
On your feel-good days Carmelina is ready to be taken for a stroll. She comes in taupe and bronze, once again perfect for autumn outfits, and hints a little gold through rhinestone studs. She stands 4 inches tall, so you won't lose your touch with the heel-life. 
Willo:
Willo has something different to offer than the rest of her friends. As amazing as wearing her at home would be, she slays with the essential-working women. As the most feminine dress shoe you could ask for, Willo stands on top. She brings boldness and class with her black base and golden accent rhinestones. For your business meetings (virtual or not), paired with your boss babe work getup.
Hillary:
Equal parts chic and cozy, our Hillary sheep leather mule is a versatile highlight to any look. The faux fur detailing brings that comfy touch, while the sharp, classic silhouette promises a sleek addition to your wardrobe. Black and Taupe.
Debra 2 and Debra 4:
They're in the same category because of their similarity, but colour and heel can make all the difference in your style and comfort level. Debra 2 is the two inch alternative to Debra 4, taking on a beautiful light blue colour, and a thinner heel than Debra 4, who's beige. They have a braided upper and pair beautifully with neutral tones. Have a backyard photoshoot with the Debras.
Delton:
These loafers are the poster-shoes for indoor living. They're comfortable and bring style both indoors and outdoors. Their leopard print pairs with the simplest or most complicated clothing pieces. It's a snug shoe with a closed pointed toe that won't get in your way. There's cushioning in the shoe for maximum comfort for movement. 
Don't let Covid get you down, you were dressing up for yourself before isolation, you should dress up for yourself now too. Own your beauty with our home-ready
plus size flats and sandals
. You know… just in case we need to crawl back into our homes again.