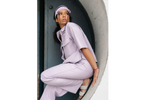 Sandals can be worn anywhere, anytime. They're perfect, casual but stylish additions to any outfit. At Trèsolz we carry the sexiest plus size sandals; sandals with heels, classy sandals, and casual sandals. Take a look at every one we have in stock. 
Sandals with Heels:
Sandals don't always need to be flat up against the floor, they can have a little bit of a lift. Check out our sexy sandals, the Debras, our 2 and 4 inch pastel heels with a braided upper. Each version brings class and subtlety to your outfits. 
Then, Olivia took Debra's pastel styling and used it in a thin 3-strap heel, giving your big feet room for a lot of breathing. Nyomi, Liberty, and Carmelina have similar nude tones, with tiny differences along the way. 
Nyomi comes in suede with a black leather toe, Liberty is living the metallic gold life, and Carmelina is bejewelled overtop of brown and taupe colours. Finally, meet Grace. She's a basic, black sandal-heel with a clear strap placed across the toes, accentuating the length of your foot. 
Classy Sandals:
We love going out, even though lately there haven't been many places to go to. Heels don't always need to be the go-to; flats, and even better, sandals, are alternatives when they come in the right look. 
For a bold look, Terry's shiny silver leather is the way to go. She wraps around the top of your foot in silver strands that look like they're sparkling. Ree on the other hand, uses gold chains to wrap around the top and the toe, with a diamond-patterned black or white base. These sandals bring all eyes on you. You can look just as good as the heel-wearers at the event, while enjoying  how much more comfortable you are. 
Casual Sandals:
Finally, everyone's favourite, the casual sandal. For lazy days and stay-in nights, this selection of styles is perfect for you. 
Welcome Lesa into your life, with her nude-peach base and clear straps, she's the definition of "wear-with-anything". These plus size sandals bring pure joy just thinking about them. Find the most casual thing you can wear and look beautiful in it. 
Sandals can be worn for any number of reasons, or even no reason at all. Be happy and comfortable in our selection of
beautiful sandals
. Lucky for you all, there's so much more to come.