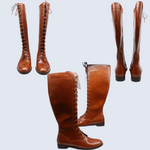 Sometimes, you just have to get it MADE.

We've all been there. You spot the perfect shoe in the store...like the perfect shoe! But your size is unavailable. Sucks!

Trèsolz to the rescue! A large part of our business that most ladies don't know about comes from serving individual customers like you with her custom made needs. 

Choosing to make your own shoes can arise because of many reasons:

1. You're unable to find a particular shoe in your desired size or color.
2. You love a particular shoe but the heel is too high or too short. Too skinny or too chunky.
3. You want a specific style shoe. You can see it in your mind but you can't find it anywhere. 
4. You have wide or narrow feet or calves and want a shoe that is made to fit them. 
5. You have two different sized feet, and you want your pair made accordingly. Yes, this is very common actually. 
At Trèsolz, we consider all the above reasons very valid for deciding to persue our custom made option. And we make the process very easy. What's more... to start the process is absolutley FREE. Simply fill out our brief Private Label request form online. Before you do so, make sure you have a screenshot or drawing/sketch of what you're envsioning. Also include information like colour, size (even half sizes), heel height and shape. Not sure about all these details? Don't worry, we can provide you with options all before any payment is required!
Most of our customers love to play around with their heel shape! I mean, if you are investing in a pair of custom made shoes, might as well have fun with all the variables that come with it. 

Other variables to play around with are: 
Upper Colour
Material Type
Print
Accents
Insole/lining Colour
Outsole Colour

Go crazy! Have fun! Bring out the designer in within!
If we can't do it...we will let you know. So what are you waiting for?
And don't forget boots. Are you a tall girl that needs a taller boot shaft? Or do you have wide or narrow calves and want a perfectly snug pair of boots that fit your calves exaclty?
 
Check out one of our latest  custom made latest leather riding boots. This customer is 6'4" so she wanted an 18" tall boot shaft. We also cutomized the calf for her wider calves.  

Lastly, our custom made/Private Label service starts at $325US/pair, and takes anywhere from 7-12 weeks.  So if you have an upcoming event, plan accordingly and get in touch with us now. 
Overall, the decision to try custom made is totally up to you, but at Trèsolz we've made it super easy, super fun and all in all, a very positve experience. 


And if you have any questions, about anything Trèsolz related, feel free to reply to this email and one of our team will get back to you ASAP.

Have a happy, happy April 1st! Don't "fool" anyone too badly:) Actually, forget that... go for it! LOL

God Bless,
Judy & The Trèsolz Team