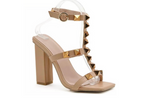 Subtlety can bring an entire look together. A fairly new addition to the heels and pumps collection is Carmelina. She's held on an 8cm block heel and comes in a couple of nude shades. Neutral tones and a touch of colour in your plus size heels can go a long way in fitting beautifully with your outfit.
When it comes to heels, dresses and skirts are often the first thought we have as women. These shoe colours pair with other basic colours, like black, red, white, and brown. Mini dresses and skirts can bring in the effect of your long model legs down to your feet, since Carmelina is a very open silhouette. She adds a touch of gold to her tone, so add a touch to yours. Gold jewellery and accessories brings class to any dress, and perfectly matches with our Carmelina's. 
Casually, Carmelina knows best. She loves to be paired with jeans and a ruffled shirt down to the shoulders. This outfit is a basic style, so Carmelina, being a trendy plus size shoe, blends into the design with ease. 
This one's going to sound a little unusual but… sweats. Carmelina can add a little cute to your super casual. We know, usually sweats are paired with runners or more casual shoes, but funky design brings the outfit to its urban glory.
Carmelina knows how to bring the heat and the chill to your outfit, whichever you want it to be. Give your
big feet
a sweet treat and fall in love with her. Grab yours now. Sizes 11-16 available.