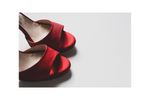 Shoes, like people, are far from perfect. They won't always fit your foot size perfectly, they get dirty, and sometimes they're just uncomfortable. This means adjustments need to be made. Instead of paying for professional fixes, we've done some research to help you keep your money in your wallet. Here are 4 of the best hacks for your common shoe problems:
White shoe stains:
Having white shoes comes with a huge battle. No woman wants to walk in them out of fear of getting them dirty. How unattractive is that?! For a simple fix, clean your white shoes with nail polish remover. This works especially well on leather shoes that have suffered from scuffing. You could also try rubbing vaseline onto the shoes. Carry them both around with you for quick fixes. 
Slippery shoes:
Heels are difficult on their own, but once you add a terrifying slippery dance floor, the stakes just got higher. Bring out your boss-woman tools (we know you have them), and sand the bottom of them. They'll get some grip and slip no more. 
Tight shoes:
This one's specifically for you ladies and your big feet. You already know how hard it is to find shoes in your size, we don't need to explain it to you. When there's one shoe that you're dying to put your size 11 feet in and the max size is 10.5, use that frustration to buy it and fix it on your own. Wear the thickest socks you own and blast the shoe with a hair dryer. The heat and stuffing of the sock will stretch the shoe right out, without ruining its beauty. Another way to do this is by throwing a ziploc bag full of water into the shoes and in the freezer, the ice will push out some more room inside the shoe. When you put it on it'll be cold, but it'll be the right size. 
Blisters:
One of the most uncomfortable situations you can have is having to walk on blisters. It's pure betrayal. Then you start bleeding and the shoe, along with your foot, are ruined. Before putting on the shoes you know will cause you pain, rub deodorant (we know what you're thinking) over your feet. It'll have your feet staying dry and keep those beautiful shoes from rubbing too hard against your skin. 
For every shoe issue lies a shoe solution. You don't need to sacrifice your shoes or
big feet
for beauty. Make beauty comfortable instead.