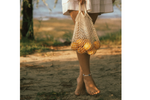 There are different tips and different shoes for every foot type. You have big feet, it's why you're here. But having wide feet is another story. There are specific shoes and specific methods in making shoes work for you.
KICKS:
Ree:
The perfect summer sandal for wide feet. Ree is a classy white or black sandal with a golden touch. She's flat up against the floor and as opened as a shoe can get. She loves her freedom and wants your feet to feel the same. No matter how wide your feet can go, Ree offers the support you need.
Rocksie:
Rocksie is the leader of the wide-solz. Her wide, round toe gives all of the room you can hope for. What's even better, is the opening at the back for freedom at the heels. Rocksie comes in orange and green with two chains linked on the top. She's a fashionable wide width flat for indoor or outdoor use. Comfort and style was blended into one. 
Bindi:
What comes less often than it should, is a heel that can accommodate wide feet. Meet Bindi, a comfortable zebra-printed heel standing at 3". For your wide feet, order a size bigger than you usually would. She has openings on the sides for slight stretchability. Don't let your wide feet lose the ability to have a pointed shoe, Bindi makes pointed toed shoes bearable. 
TRICKS:
Making the shoe bigger:
There are a couple ways to make shoes fit you better. To widen them, stuff your foot with a thick sock inside the shoe and blast a blow dryer at it. The heat will stretch out the shoe to fit the shape of your foot with the sock over it. On the opposite end of temperature, you can fill a bag with water and put it in the shoe and in the freezer. The water will freeze and expand in the bag, taking the shoe with it. Try first with an insignificant pair :)
Just size-up:
Don't be afraid to go a size up to fit your wide feet in. Having shoes that are a little bit longer than your feet isn't a bad thing. To fix the length issue, try putting insoles. That way it'll take up more space for the height and length, leaving the width to be filled by your feet.
Shoe-shopping:
Whether you buy in-store or online, you have the option for trying them on and returning them. Know what fits you and what feels comfortable before buying or before committing to keeping them. When you try these shoes, try them in the afternoon instead of the morning. Throughout the day your feet start to swell, if shoes can fit while your feet are at their biggest, then they're worth keeping. 
Our final tip is a bit of a kick and a trick. Try our private label service, so you can customize shoes for your wide feet without sacrificing the beauty that you fell in love with. All of the designing and sizing is in your hands (or your feet). 
There are so many ways to fit your feet in shoes without just stuffing them in and dealing with the pain. If anything, get a professional to widen them for you. You deserve comfort and style together, instead of only choosing one.
**Note these are just suggestions. Use your professional judgement.