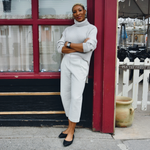 There once was a lady by the name of Tiffany. She was a diligent and devoted worker who consistently gave her all at work. She could never find a pair of shoes that fit her precisely, though, so that was her one constant problem.
Because of her broad feet, Tiffany had a hard time finding footwear that was both fashionable and comfortable. She looked in every shoe shop in the area, but none of them had shoes that were the perfect size for her. Even when she attempted to acquire shoes online, they never appeared to fit her adequately.
Tiffany at work started to avoid social situations as a result of her shoes. Knowing that her shoes would be a cause of humiliation, she would always come up with an explanation for why she couldn't attend corporate functions or meetings.
Tiffany made the decision to stop at some point. She had to stop allowing her shoes to impede her progress. She started looking at several shoe companies and shoe designs that were known to fit bigger feet. She also researched a lot of customer testimonials about shoes that would be cozy for bigger feet. 
Tiffany finally discovered a pair of shoes that were promising after weeks of searching. The brand was known as Trèsolz. She crossed her fingers and placed an internet order for a pair. She tried them on when they arrived, and they were the ideal fit. In her new shoes, she felt attractive and assured. 
Below, Tiffany shares a list of shoes that she loved and that was perfect for a day in the office.
Possible Shoes for Tiffany 
For those looking for a comfortable and stylish shoe option for the office, the Soleil from Trèsolz is a great choice. Not only is it eye-catching with its exquisite detailing, but it's also comfortable and supportive for long workdays. It's the perfect alternative to heels, allowing you to stay stylish and professional without sacrificing comfort.
If you're looking for more comfortable and stylish options for your work wardrobe, the Patricia is another great choice. It's an elegant, soft, and charming slip-on shoe that's perfect for any work environment. With a couple of pairs of durable and comfortable shoes like the Patricia, you can stay fashionable and old chic all week long while still feeling good and productive.
Even if you do prefer to wear heels, it's still important to have comfortable backup options on hand, especially if your feet get sore or swollen from walking in heels all day. Trèsolz's fashionable slip-on shoes are a great choice to keep on hand for those times when you need a break from heels. Remember, it's important to take care of your feet and body, so it's always a good idea to be prepared and listen to what your body needs.