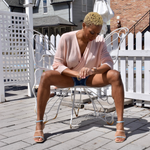 It was a typical weekday morning and Jessica was getting ready for work. As she rummaged through her closet, she came across her old pair of everyday casual slip-on shoes. They were tattered and beat up, she dreaded the thought of wearing them for 5 minutes let alone a whole workday. As she was putting on these small uncomfortable slip-ons she remembered her sister had gifted her some new shoes from a company that sells shoes for women with big feet, Trèsloz! They were the Trèsolz Brenda, made of soft, supple leather and had a comfortable cushioned insole. Jessica was ecstatic because she had been looking for a new pair of shoes to wear to work, and these seemed like the perfect fit.
She slipped them on and immediately noticed how comfortable they were. The elastic sides made it easy to slip them on and off, and the cushioned insole provided support for her feet. As she walked around his apartment, she could feel the shoes molding to her feet, becoming more comfortable with each step.
Jessica decided to wear them to work that day and was glad she did. The shoes were perfect for the office, as they were both stylish and practical. She received many compliments on her new shoes throughout the day, and even her boss noticed them and commented on how sharp they looked.
As the day came to a close, Jessica realized that she had worn her new Brenda shoes from Trèsolz all day without any discomfort or pain. She was grateful to have found such a high-quality pair of shoes that were both stylish and comfortable. From now on, she knew that her everyday casual slip-on shoes by Trèsolz would be her go-to choice for work because of their style, comfort, and orientation towards women with large feet!