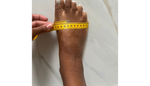 One of the biggest dliemas when it comes to shopping online for shoes is the question of "Will this shoe fit the width of my feet?" As someone who has asked that question myself in the past, I get it. It's often-times the deal-breaker for me cashing out online. The problem is two-fold:
Standard Width - Generally speaking, most shoes that you find in large retail box stores (i.e. Aldo, Browns, Guess, Steve Madden. etc.) are made in the 
standard B-width
measurement. A, AA, AAA are going more narrower, and C, D, E, EE, are going more wider. 
Now, what does that mean for you when shopping at Trèsolz? A little bit of education here will help you when looking at our styles because within
 every shoe description, we classify each design as A, B, C, D, E, EE  width
and so on. So, if you you're looking for a fit similar to standard width (what you find in the box stores listed above) just take a look at the styles that are classified as B-width on our site or simply
use our online search bar

 
(type in "B width" and press Enter/Return). All our B-width shoes will populate. 
Some of our top-selling B-Width ladies shoes are:
If your feet are tad wider, like mine, and you find that you typically need to go up a size, use a shoe stretcher, or just have to tolerate the squeeze (ouch!), you should consider looking at our C, D and E-width selections (use the search bar here again).
Best C-width sellers include:
Our cutest D-width styles are:
**Keep in mind, most B-width wearers also have the luxury of enjoying a more roomy comfy fit by wearing a C-width (or D-width) shoe...you lucky ducks!

Need a visual? Sure! Let's use me, Judy, owner of Trèsolz.  Before I started Trèsolz, I had no idea what my foot width was, but when shopping for shoes I always felt a squeeze when trying on shoes in my size. I would either bear the pain (YUP- that was me), go up a half or full size, or (like mentioned earlier), slap some wooden stretchers in the shoes then hope (and pray) that after a couple days the shoe would loosen up. And now I know. I have a C-wdith foot. I am most comfortable in any C-width style from our site. But I also enjoy the D-width options too (just a smidgen more roomy but not making my feet look like boats). And, when I do wear B-width, it's always ½ size to a full size up. 

Want to compare my foot width to yours?  Let's do it! Grab a soft measuring tape. Now, pressing your foot into the floor (so it splays), measure around the widest part of your foot in centimeters. What's your measurement?  Mine is about 26cm. And I'm a C-wdith. See pic above...pardon the lack of a pedicure LOL!
If this helps even one of you feel more secure and comfortable when navigating our website and feeling assured in your purchase, then I have done my job. Trust me, I understand the uncertaintly of buying shoes online. Those of us with bigger feet find it hard to trust that shoes online will actually fit us. But remember, I'm in your shoes too (pun intended).
Still some hesitation? Quite alright, all of our staff are Trèsolz customers too! Drop us a line by replying to this email, chatting with us directly using our website's chat function, DMing us over at @tresolz on Instagram, or giving us a call at 416-919-7065. Our goal to is to ensure that
every purchase FITS!
LOW INVENTORY SALE!

If you wear size 11, you're in luck! We are down to our two LAST PAIRS of Nyomi's! Use code VIPNYOMI at checkout and hopefully there's still one left for you!
Check
Nyomi
out here. First come first serve!