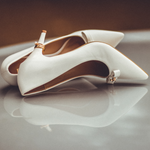 The Dream and Search for the Perfect Shoes
Jennifer has spent months looking for her dream wedding shoes. It's hard because she is not your average-sized woman. In fact, she is much taller. A woman who is sized 13 in shoes is not going to find a classy pair of beautiful heels. Even if Jennifer does find shoes, they're gray and old, made for grandmothers who don't want style, just a comfy pair of shoes. Can't a tall woman have both – comfort and style? Ever since Jennifer was a young woman she has always loved shoes. She used to dream of her wedding dress being slim at the waist and ending just above her ankles to show her beautiful pair of heels. However, Jennifer had always struggled to find stylish shoes that fit her properly. So when it came time to start shopping for her dream wedding shoes, she was filled with dread. She had always imagined herself walking down the aisle in a beautiful pair of heels, but she knew that finding a pair that would fit her wide feet and be comfortable enough for the big day would be a tall order.
Despite her reservations, Jennifer began her search, determined to find the perfect pair of shoes. She scoured the internet and visited countless stores, but no matter where she looked, she was met with disappointment. The shoes that came in her size were either too clunky or too plain, and the ones that were stylish and comfortable were always too small.
As the days turned into weeks, Jennifer began to lose hope. She couldn't bear the thought of settling for a pair of shoes that weren't her dream pair, but it seemed like there were no other options available.
Trèsolz saving the day
Just when she was about to give up, a friend suggested that she check out Trèsolz, a boutique that specializes in stylish shoes for big feet. Jennifer was skeptical, but she decided to give it a try.
As soon as she clicked into the Trèsolz store, she knew she was in the right place. The site was filled with beautiful, fashionable shoes in all sizes, and the online sales staff were knowledgeable and helpful. Jennifer arranged a private fitting and tried on a few pairs, and to her delight, she found the perfect pair of heels – Katrina 4. They were comfortable, stylish, and best of all, they fit her feet perfectly. The beautiful golden matched Jennifer's hair and dress perfectly, the lace of the heels wrapped above her ankle. Jennifer knew these were the shoes out of her dreams. 
On her wedding day, Jennifer walked down the aisle in her dream shoes, feeling confident and beautiful. She knew that she had finally found a place where she could find stylish shoes that fit her big feet, and she was grateful to Trèsolz for making her dream a reality.