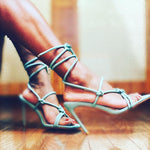 Jonelle is our strappy green sandal that's got our customers talking. Her beautiful sage colour brings a fresh, new look to your feet and her adjustable straps provide versatility and the utmost comfort as she forms to your foot. A must have if you're looking for a stylish heel for your summer events. (We all know how had that can be when you have big feet!)
It's Ok To Be Square!
Just like the other shoes in our Choose-Your-Heel collection, Jonelle gives you options. She comes in a 3.5" spool heel or a 4" stiletto heel. Her open square-toe design flatters each outfit you pair her with and you know we've added our signature extra cushion along the foot bed to ensure you feel like you're walking on a cloud.
Blue, White and Green!
On sunny days, she goes great with an effortlessly minimalistic look with a denim overall or skirt and a white t-shirt on top. The blue, white, and sage green combo is a refreshing look, perfect for warmer weather. The straps can follow the curve of your ankle and lower calf like a vine, or can be tied off right at the start of your ankle. 
Be Bold. Stand Tall.
Accessorize Jonelle with a bold, black choker and a pair of sunglasses. You are the model showing your beautiful, sage green girls to the world. Make a statement in these shoes.
Ready for Jonelle?
We're ready when you are! Click on the links of each style, it will direct you to the page without searching! Or visit Trèsolz.com for more information and follow us on Instagram at @Trèsolz and on Facebook at @Trèsolz.  
Happy Shopping!