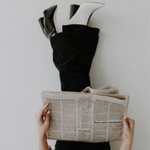 Rachel loved trends. However, more specifically she was in love with the ankle boot trend; this trend has taken over the internet. However, Rachel has a problem. She has always struggled to find shoes that fit her big feet. Rachel is a size 10 – very uncommon for women. She has searched and searched countless pairs of boots from various brands, but none of them seemed to fit her wide calves and long toes. Regardless, Rachel was determined to find a pair of ankle boots that she loved. As a result, she started looking online and eventually came across a brand she had not in the past. This brand specialized in wide sizes. She was so happy to have found Trèsolz.
Ankle boots and jeans are a classic combination that can be dressed up or down, depending on the occasion. Everyone wears them on different occasions. The key to making this pairing look good is to choose the right fit for both the boots and the jeans. This means that the ankle boot should hit the narrow part of the ankles while the jeans serve to elongate the leg and create a streamlined silhouette. Heels on ankle boots also serve to elongate, adding some height. Although some prefer not to add height. If you are looking to dress it down, go for a more distressed or faded jeans and pair them with a casual ankle boot material – like suede. For a more polished and dressed-up look, choose darker wash jeans and ankle boots in a sleek material like leather.
Helping Rachel find the Right Ankle Boots from Trèsolz
Jeans are a staple in most people's wardrobes, but it can be challenging to find the right pair of ankle boots to go with them. There are many different types of jeans to consider, including the length, width, and wash, as well as the height, width, and heel type of ankle boots. Here are some outfit ideas to help you match your jeans with ankle boots:
If you prefer cropped jeans, try wearing them with a tall ankle boot that hides under the jean's leg, such as the Hyacinth in black or blue. Alternatively, you can roll up the jeans to create a gap between the boot and the jeans and show off some skin with a shorter ankle boot. Slimmer cropped jeans look best with sleeker, less chunky boots, while baggier styles can balance out block and platform ankle boots like the Donna.

Skinny jeans are a versatile choice that pairs well with most ankle boots. Tighter ankle boots with slim jeans balance out the outfit best. Block heel boots with a square toe look great with skinny jeans that aren't too tight at the ankles. A pointed-toe stiletto heeled or sock bootie in black, patent, or metallic will dress up your skinnies. Add a sleek silk blouse or bodysuit and fitted blazer. Lower, block-heel ankle boots or those with kitten heels give your skinny jeans a classic, subtle vibe.

Long jeans, whether ankle or floor length, look great with tall, chunky, or platform ankle boots. Wear a heel height that keeps the jeans from dragging on the floor. Roomy, long, or baggy jeans look great with block heeled ankle boots.