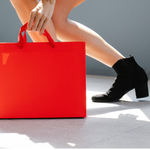 Sara's Holiday Gift Story 
Sara had been looking for the perfect holiday gift for her friend Rachel. It had been weeks since the search had begun. Rachel was a stylish woman with a love for all things fashion, and Sara knew that a pair of shoes would be the perfect present. But there was one problem: Rachel had big feet, and finding stylish shoes in her size was always a challenge. Sara scoured the internet and visited countless stores, but no matter where she looked, she was met with disappointment. The shoes that came in Rachel's size were too plain, and the ones that were stylish and comfortable were always too small.
Just when Sara was about to give up, she remembered an online boutique that she had heard about called Trèsolz. This online store specialized in stylish shoes for big feet, and Sara knew that it was worth a try.
As soon as Sara got to the Trèsolz homepage, she knew she was in the right place. The store was filled with beautiful, fashionable shoes in all sizes, and the virtual sales staff were knowledgeable and helpful. Sara tried on a few pairs, and to her delight, she found the perfect pair of heels. They were comfortable, stylish, and best of all, they fit Rachel's feet perfectly.
On the day of the gift exchange, Sara presented her with the shoes, and Rachel was thrilled. She had always struggled to find stylish shoes that fit her properly, and she was grateful to Sara for finding such a perfect gift. From that day on, Rachel knew that Trèsolz was the place to go for stylish and comfortable shoes in her size.
Trèsolz – The Life Saver
As the winter season approaches, it's time to start thinking about warm and stylish footwear. Trèsolz has you covered with our collection of fashionable boots and booties.  Just as it had Sara covered. Whether you're heading out on the town or lounging at home, we have the perfect pair to match any occasion.
For a dressed-up look, try the Norma over-the-knee boots. These curve-hugging suedette boots feature a lug sole heel for added traction on slippery surfaces and an almond toe for a touch of drama. For a more laid-back vibe, slip into our Jackie suede loafers. These vintage-inspired shoes are perfect for game or wine nights, thanks to their cushioned footbed that will keep you comfortable all night long.
Trèsolz makes holiday gift shopping easy. While you're picking out your own fashionable favorites, you'll be sure to find the perfect present for your fellow plus-sized friends and family. So don't wait any longer, visit our website today and start crossing items off your gift list!